At Gulbenkian Andonian Solicitors, we strive for excellence and our reputation speaks for itself for being one of the best immigration and human rights specialist law firms in London alongside one of the most respected full-service law firms in the UK.
This week we are delighted to announce that our Senior Legal Officer, Mr Fadi Farhat has received the Leading Immigration and Human Rights Lawyer of the Year Award 2020 from Acquisition International Magazine, a digital business magazine that concentrates on reporting about hot topics that may be of interest to businesses and individuals worldwide who may have professional or personal interests in the UK market.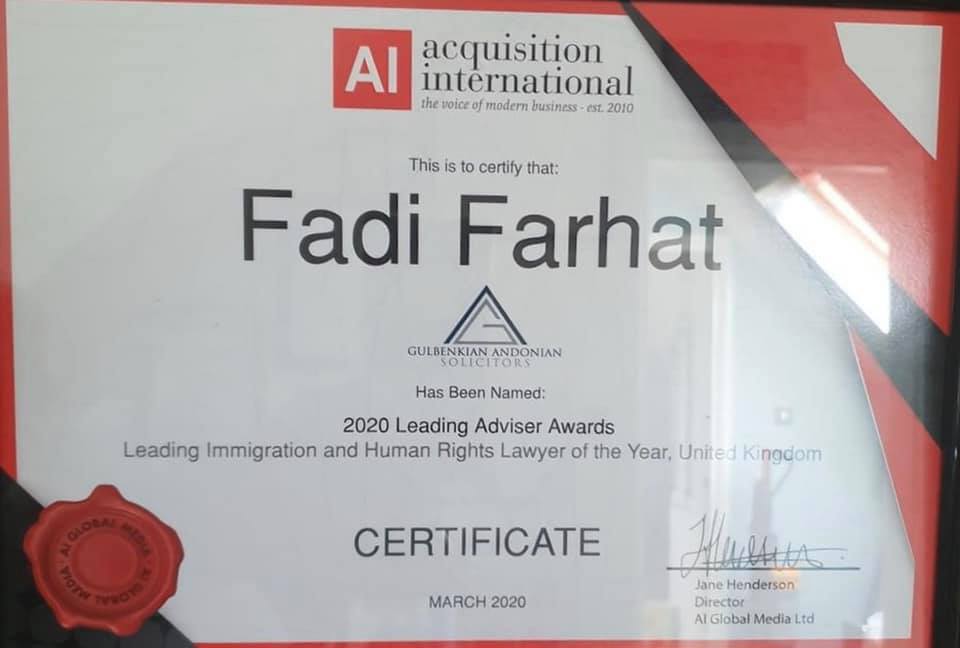 In addition to the award, Acquisition International wrote a fantastic review about Fadi and his outstanding work on UK immigration and human rights law which you can read below.
"Mr Fadi Farhat has, in the field of Immigration and Asylum Law, worked on 8 reported cases, obtained 40 grants of permission to appeal to the higher courts, conducted 300 advocacy appearances in the Tribunals and has over 60 judicial compliments (in written judgments) to his name. There are very few individuals under the age of 33 (as he still is) in the entire country (if any) with such a track record."
Fadi is our Senior Legal Officer and has a wealth of experience in handling appeals and public law Litigation. He has been with our firm now for five years and is one of the most qualified legal experts in the city of London in his fields of specialisation.
Over the years, Fadi has handled an array of major cases from employment disputes to deportations of foreign criminals whether in private practice or in the voluntary/charity sector where he has volunteered for several legal charitable organisations for many years. His cases often progress to the High Court and even the Court of Appeal where he has settled several hearings with a maximum success rate.
Find out more about Fadi and his legal expertise, click here.
Ask our Expert Legal Team
At Gulbenkian Andonian, we pride ourselves on "Excellence, Experience and Efficiency". With over 35 years of experience on your side, our team of London based lawyers and solicitors have a wealth of experience advising individuals, families and businesses of all sizes to find clarity on UK law.
Call us on +44 (0) 207 269 9590 or fill out the form below. We usually reply within a few hours.
Neither Gulbenkian Andonian Solicitors ltd, nor their employees, agents, consultants or assignees, accept any liability based on the contents of written articles which are meant for guidance only and not as legal advice. We advise all readers to take professional advice before acting. If you would like to consult with a professional lawyer or solicitor to discuss your case, please do not hesitate to contact us directly. This site uses reCAPTCHA and is protected by the Google privacy policy and terms of service.