Call Gulbenkian Andonian Solicitors today on 020 7269 9590
Best London UK immigration lawyer & Solicitor Service
Immigration
The comfort for working with a specialist immigration team ranked as top the in the United Kingdom means a lot to our clients.
Read more
Human Rights
We understand Human Rights better than anyone else. Our human rights specialist lawyers are here to support you through every step.
Read more
Family Law
Family law is both complex and sensitive, we pride ourselves on our incredible track record of success within this field of law.
Read more
Corporate Sector
Our corporate clients appreciate the importance of a trusted reliable professional legal partner, we are here to support your business success.
Read more
Conveyancing
Whether you are selling or buying property, we offer the essential assistance you require to handle every aspect of your sale /purchase from start to completion.
Read more
Employment Law
We provide clear, practical advice that is tailored to our client's needs. Using our in-depth knowledge, we aim to help you resolve any workplace issues.
Read more
Litigation
We advise both claimants and defendants including debt disputes, breach of contract, partnership disputes, building and boundary disputes with a view to negotiating out of court settlements.
Read more
Notary Public
Gulbenkian Andonian law firm works with the most experienced and professional notary public in London Mr. Sajo Thomas recognised as senior within his field.
Read more
Experience Reputation Results
Gulbenkian Andonian Solicitors is one of the leading internationally recognised full-service law firms in the UK established since 1985. Recognised by the Legal 500 as Top Tier our team of expert solicitors are dedicated to the provision of the very best legal services anywhere.
Our lawyers are considered by many as some of the best in the United Kingdom, known and respected for our extensive experience, unparalleled reputation for delivering the top results every-time. We do not follow a one size fits all approach, rather tailor all solutions towards the individual needs of our clients.
We have received countless commendations from both our clients and the judiciary. Our firm has gone from strength to strength as we embark on our journey to internationalise our presence. With over 4 decades of qualified experience, we have a reputation to deliver top results every-time. Read more about Gulbenkian Andonian.
Download our corporate brochure for more information
11
Nov
Since the UK voted to leave the EU on 23 June 2016, many British citizens have been treated roughly by continental immigration officers, warning them that they will soon be having difficulty in entering continental...
31
Oct
Work icon Work Free Upgrade to Premium Congrats, your article has been published! Share it with your other networks to broaden your reach.  Share on Facebook  Share on Twitter #Immigration- there has only been six occasions...
18
Nov
Dominic Raab the former Brexit Secretary, and the PM's second Brexit secretary (David Davies being the first to resign over the Chequers deal), resigned, last Thursday because he said he could not in all conscience...
4
Oct
In a recent article I wrote about the forthcoming proposed changes in divorce law following the Supreme Court decision in the matter of Owens v Owens. I explained that the "fault" factor would be removed...
I highly recommend Gulbenkian Andonian Solicitors to any prospective client. Solicitor Mr Hayk Sayadyan and his colleagues helped to secure a positive result after a lengthy period of difficulty in respect of navigating the labyrinth of government forms and protocols. I am completely satisfied with the professionalism, diligence, high level of legal knowledge and sound advice received from Gulbenkian Andonian Solicitors. Not only did they inspire confidence but they helped through very difficult processes. I would not hesitate to call them again for future advice and legal services.

We wanted to say thank you very much to Ms Zara Shamal and Mr Dave Vasoodaven and your staff. We are very happy, and we are really looking forward for anything we need in future to work along with you and your staff. Thank you very much,

We are over the moon. This is a law firm with highly trained professionals who really know what they are about.

The process was very organized , smooth and well prepared. Gulbenkian team was always available to support me during Tier application.

Hello David, My family and l are so happy for your wonderful advice on my immigration issues which turned out very well.

We would like to thank Mr F. Farhat for his help and guidance in appealing against the HO family visa rejection.

Gulbenkian Andonian Solicitors have been most helpful during my appeal of Home Office decision with regards to my long term stay residency permit.

Dear Mr.Dave , First of all .I would like to convey my big thanks for you personally and for Mr. Fadi

Dear Fadi, I would like to express my gratitude from my recent experience as a client for Mr.Fadi Farhat , during our engagement Mr.

I was stuck in a legal limbo for 6-7 years of my Life - living from one visa to the next, unable to register a business,

I came to Gulbenkian Andonian believing that I had no other choices.

Thanks to Dave and Ali I have resolved all of my Court Appeal problems.

If I had not won my Appeal;- i would not have been able to see my child in the UK..

I am so happy with the result i received this week, I would like to thank the whole team at Gulbenkian Andonian . In particular the work of Hayk and Mr Dave

Me and my husband were absolutely petrified about the upcoming appeal.

We are pleased by our outcome and all the effort you have put in and appreciate you passing on without delay all relevant information.

I want to say how grateful i am to Dr Bernard who has managed to obtain ILR for me in circumstances

Dear Dr Andonian, Thank you so much for obtaining for me leave to remain under the 20 year rules.

Dear Dr Andonian,My wife and I were so pleased how you handled our tier one entrepreneur application. thank you so much .

Dear BernardThanks for dealing with my marriage case and for guiding us in the right direction throughout

Thank you Mr Andonian in obtaining for me my residence document. I am so happy that i can now live in England permamently.

Dear Dr Bernard am very happy thank you for getting me my stay permit for 5 year

I was delighted to get my ILR Dr Andoinian. thank you.

Dear Mr Bernard, Thank you for all your help and Fadi is really great ;

Dear Dr AndonianMy husband and i wish to come to see you and fadi and to thank you for the way my husbanbd's

Dear Bernard,Thank you so much for completing my spouse visa and guiding us thoughout the process .

I thank you for sorting out with Hayk my investor visa just before the change of the new rules

Dear Dr AndonianThank you for looking after me and my Family. Thanks to you we have now a new life in the UK.

Dear Bernard,I was so pleased to receive my residence permit .

Dear Bernard.I heard today that my son was granted naturalisation as a British Citizen, all thanks to you !

Dear bernardThank you for obtaining ILR for my daugther who can now look forward to her studies

May i thank you a million times for your kindness and patience in sovling my Family's

Dear Bernard,I was very happy that you managed with your team to obtain the ILR for my paretns and brother, all of whom are so elated.

Dear Bernard,Thank you so much for all you have done for our daugther Bee

I would like to express my gratitude to Dave Vasoodaven and Zara Shamal.

If it wasnt for the support of Mr Dave Vasoodaven & Mr Ali Sahlabadi at Gulbenkian Andonian Solicitors,

Ali I just wanted to say that i am very grateful to you for everything!!!

I am so gald that you prevented the home office from sending me back to Albania. May God bless you Dr Andonian.

Dear Andonian,you were really great in findng a solution for me to stay here in England.

Dear Dr Andonian.I was very much impressed by the speed and effeciency with which you handled my father's

I have not spoken to my son for the last year. Thanks to the efforts of the solicitors

I really appreciated your help with my Family Law matter and for your continuous support.

Dear Sirs:Re: Mr Ali Sahlabadi, Trainee Solicitor

I write to thank you for your advice and guidance in dealing for matters on my behalf.

Life can get very difficult at times and occasionally we all need professional help;

Naseem Kadri, she has always made me feel assured, confident and more than just another case or client.

Thank you very much for all your help, your work on my case was outstanding.

I had a long and a very complex history of different visa issues, and I have always been reluctant to pass it into any third party's hands.

Hayk represented and handled all our Family's immigration cases, applications

I would like to say a big thank you to Hayk Sayadyan who was very supportive and professional from day one.

I came to the office both depressed and unstable...

A home is the most important element in ones life thank you for providing

The myraid of issues we faced with intellectual property were all explained and solved in such a professional...

Thank you for clearing up the confusion of the probate process and helping my father with his final will.

I am very pleased with the result of my employment matter.

Thanks for handling my case and getting a winning result! I cannot tell you enough how grateful I am for all the support you have given during my distress with my employment matter. All thanks to you that my grievance has successfully been withdrawn.

I DEEPLY BELIEVE IN MY HEART THAT GOD ALMIGHTY SENT YOU AS AN ANGEL TO HELP ME IN MY CASE.
Facebook
We are a top, leading, multi-lingual firm,including Judge Dr Andonian,and are recommended byThe Legal 500
@thelegal500
Join us onTwitter
@GA
_Solicitors
Brexit -- Deal or no deal !
Dominic Raab the former Brexit Secretary, and the PM's second Brexit secretary (David Davies being the first to resign over the Chequers deal), resigned last Thursday because he said he could not in all conscience go to Brussels next week and sign on the dotted line the deal negotiated between the...
Twitter
"I came to #Gulbenkian #Andonian #believing I had no choices.I was depressed due to the #psychological problems of my @ukhomeoffice situation.If it wasnt for #Dave,I don't know what I would do. #Thankyou so much for your #help, you have changed my #life."
#HomeOffice #Home #Office https://t.co/9azLxFf20F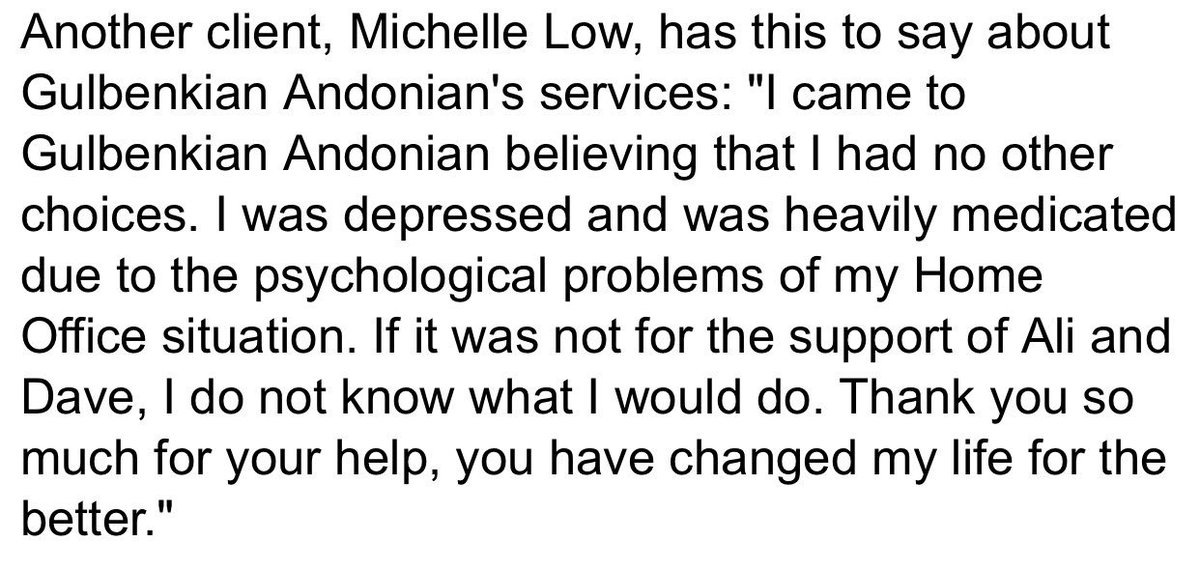 The #service offered by #Gulbenkian #Andonian in #regard to #immigration #law is #beyond compare,as evidenced by the recent #testimonials released for the firm.

1 testimonial, coming from clients Jetmir and #Madonna, states: "We wanted to say #thankyou #very much to #Zara + #Dave https://t.co/ItDNlclXIv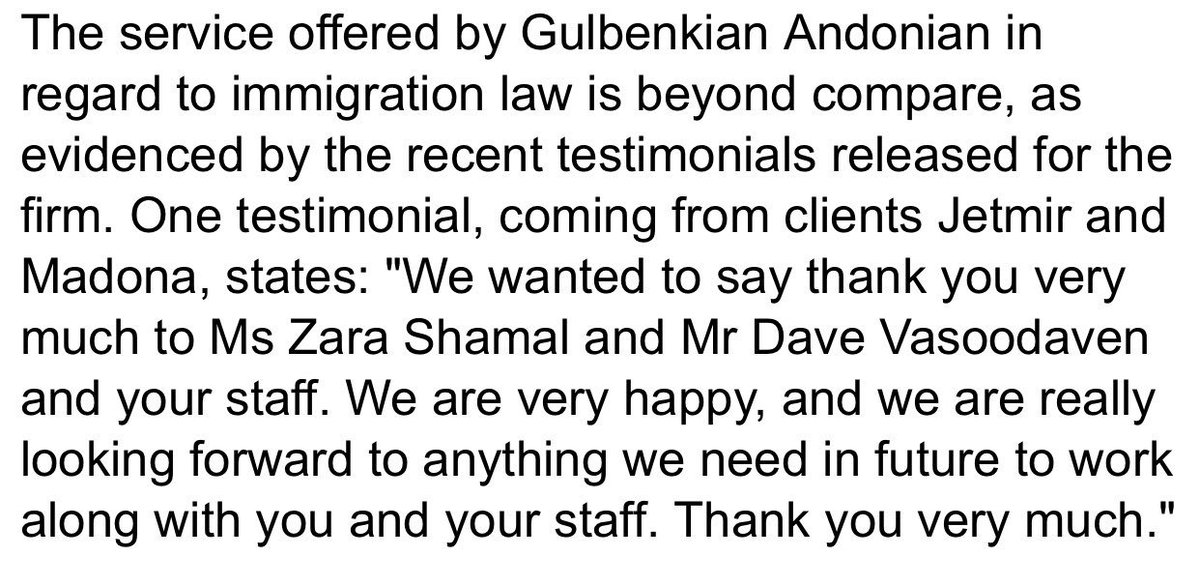 #Gulbenkian #Andonian #Solicitors has a #solid #team of #experts in #business immigration, #personal #immigration, Tier 1 #visas, #UK #fiance and #family visit visas, #British #citizenship and naturalisation, Tier 4 visas, #EEA permanent residence and family permits+more.
#Brexit https://t.co/ByT5fM7eQS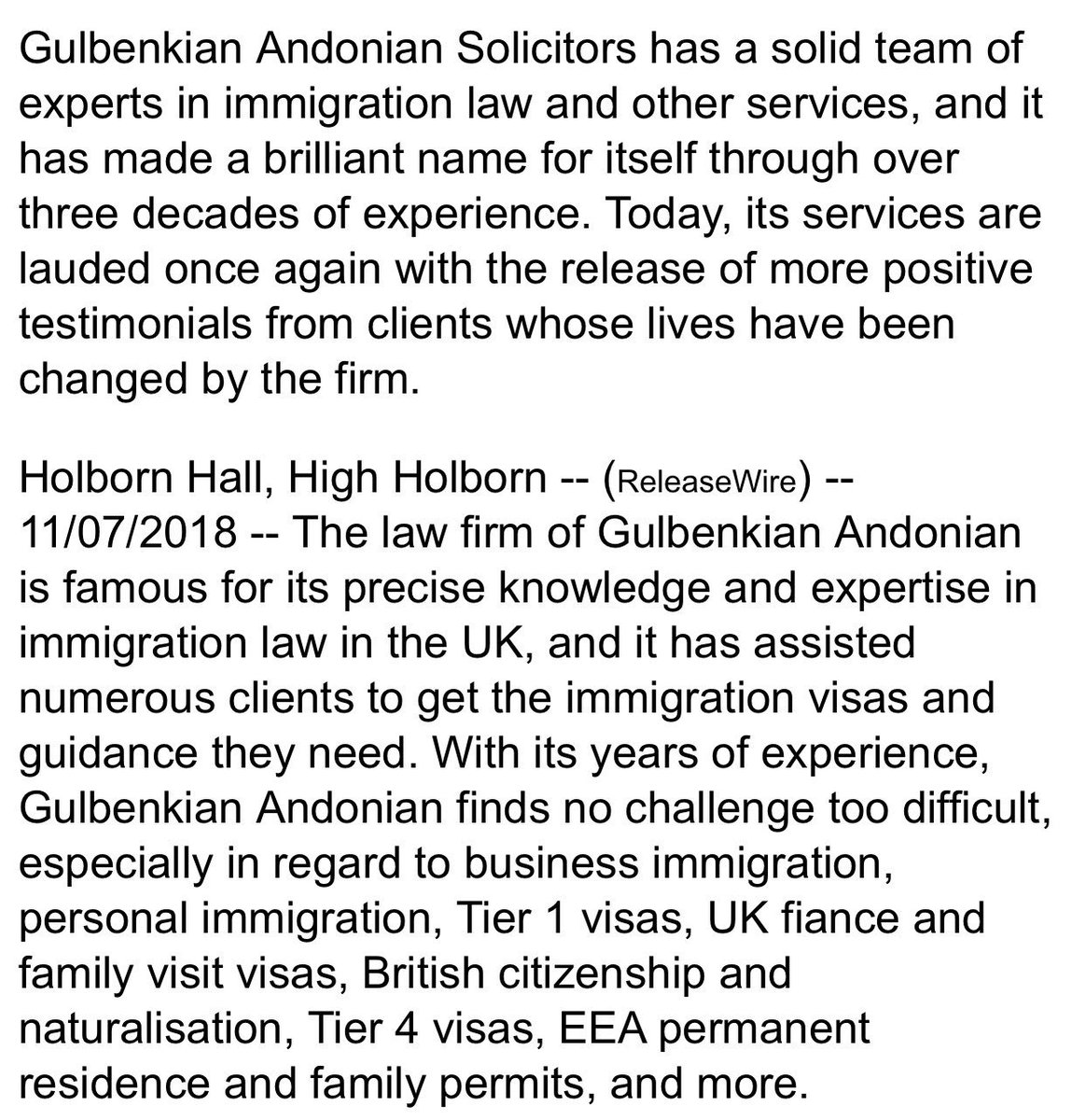 Due to our #Iranian/ #Farsi speaking #Lawyers,they've added us to @BestIranian's website!

Established in 1985, #Gulbenkian #Andonian #Solicitors are #London's leading firm for #immigration, #employment, #corporate+ #litigation #law.
📲7 269 9590
#best #lawyers
#Persia #Persian #Iran https://t.co/8lXRY427z9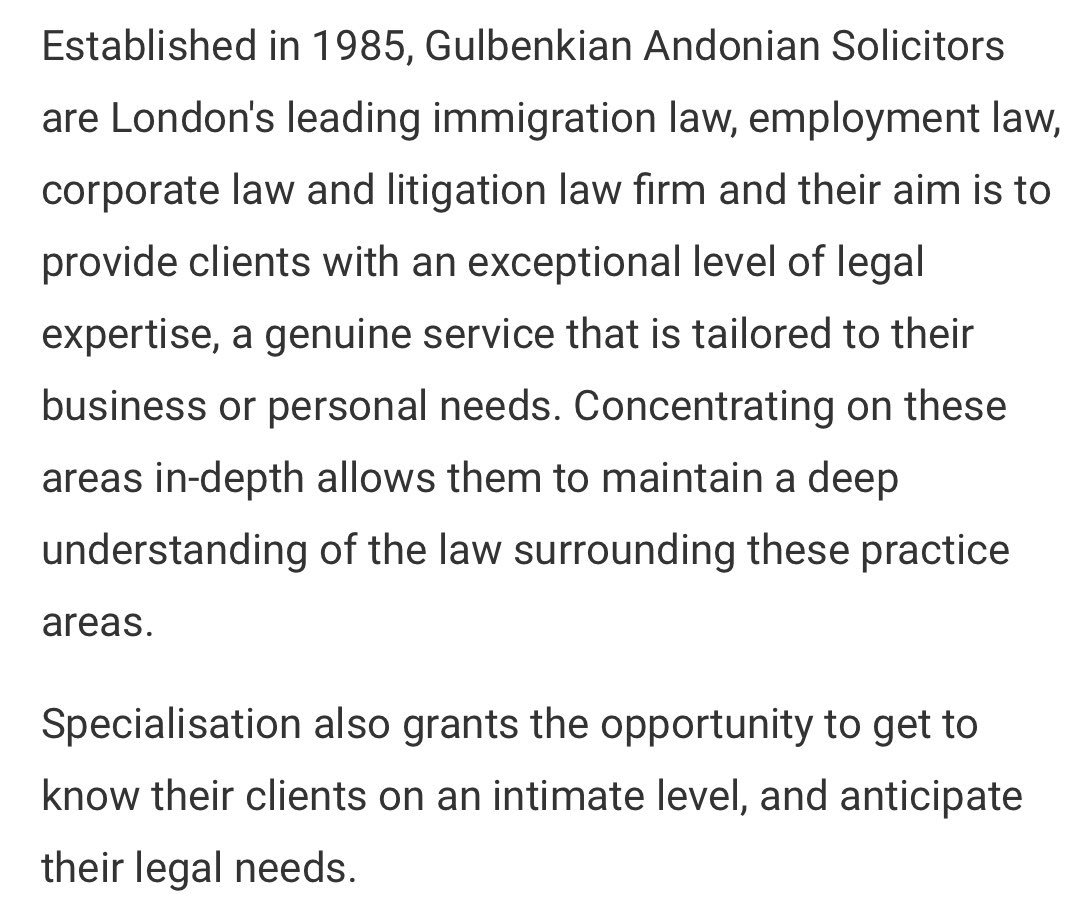 ⭐️⭐️⭐️⭐️⭐️
" #Best #Law Firm so far. Staff are very helpful + all #immigration cases are handled in a highly professional manner by experienced #solicitors."

#Gulbenkian #Andonian
#Notary #Public #Notaries
#Solicitor #Lawyers #Lawyer
#Holborn #London #UK
#fivestar #review #5stars https://t.co/u258M0ETpr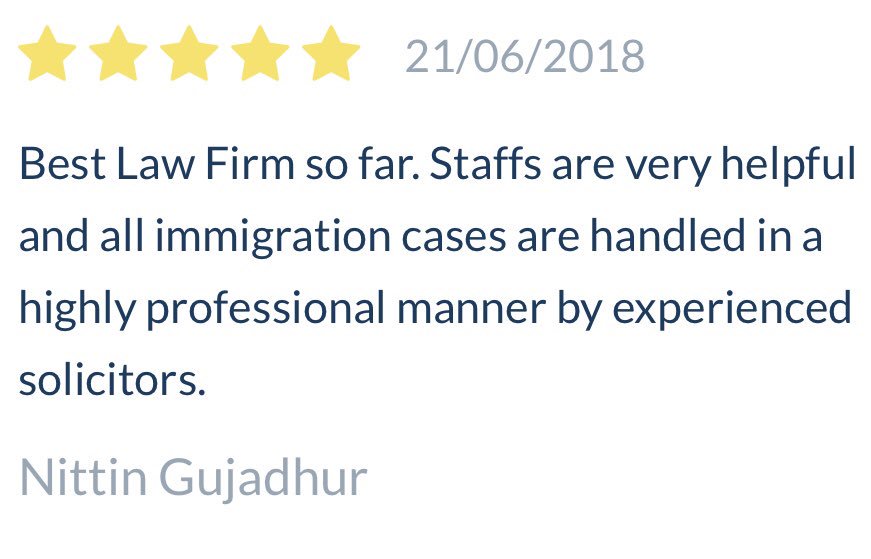 YouTube
Fadi Farhat invited to Love Sport Radio discussing repercussions of Brexit on the premier league
Mr Fadi Farhat - The Immigration Appeals Process
An advert produced by and aired on ZEE TV
Mr Hayk Sayadyan of Gulbenkian Andonian Solicitors
Dr. Bernard Andonian co-founder of Gulbenkian Andonian Solicitors
Ms. Caroline Gardner - Clients Relations Officer, Gulbenkian Andonian Solicitors.
Jahed Morad - Immigration Lawyer discussing spouse visa earning requirements
Fadi Farhat - of Gulbenkian Andonian Solicitors discussing appeals
Fadi Farhat on LBC Raido