Leading Litigation Lawyers in London
Gulbenkian Andonian Civil Litigation Solicitors offer unparalleled expertise and representation on dispute resolution and litigation matters.
Call us today, or fill out the form and we will get back to you in 24 hours.
Civil Litigation Solicitors in London: Navigating Dispute Resolution with Precision
London is the epicentre for many businesses and individuals on their path to success. However, such ambition can come with its own set of legal challenges and disputes along the way. 
Gulbenkian Andonian Solicitors prides itself on having one of the best teams of litigation solicitors in London and the UK. We are a multi-lingual team that can assist you in a variety of languages, including English, French, German, Spanish, Italian, Russian, Malaysian, Hindi, Mandarin, Cantonese, Armenian, Arabic, Malaysian and Farsi.
If you feel overwhelmed by the prospect of a legal dispute or wish to understand how to handle one, then call us on 0207 269 9590 or contact us.

What is Civil Litigation and Why is it Important?
Civil litigation encompasses a vast area of law, primarily dealing with disputes between individuals or organisations, wherein the end goal is usually compensation or some specific payback for damages. With London being a hub for businesses, property ownership, and high-value transactions, civil litigation solicitors ensure that disputes are handled efficiently and fairly.
Why Would You Need a Civil Litigation Solicitor for Dispute Resolution?
Engaging in a dispute can be daunting and stressful. Our civil litigation solicitors can not only provide legal advice but guide clients through the legal process, ensuring their client's prospects are in the best possible light. From resolving a breach of contract issue to professional negligence claims, these experts ensure the best course of action is taken.
Types of Civil Disputes Handled by Our Civil Litigation Solicitors in London
Our litigation lawyers have a wide range of skills and decades' worth of experience specialising in all dispute resolution and property matters;- other issues our firm can handle include fraud, land disputes, banking, and investments. 
Our Areas of Civil Litigation Include but are not limited to:
Property disputes




Debt recovery




Defamation cases




Commercial disputes




Breach of contract



These legal issues, whether faced by a private individual or a corporate entity, will be handled by our highly experienced litigation team led by civil law expert Fadi Farhat, who has a niche expertise tailored for each dispute type.
From the outset, Fadi's dedication to understanding my case was evident. His approach to civil litigation is both professional and detail-oriented. He always kept me informed and was always responsive to my questions. His expertise and guidance made a potentially overwhelming legal process seem manageable. I am grateful for his support and would highly recommend their civil litigation services.
What stood out to me the most was their client-centric approach. Not only did they offer a great service, but they also took the time to ensure I was comfortable with every step. Their combination of legal acumen and genuine care for their clients sets them apart in the industry.
Navigating the UK's legal system can be hard but with the expert assistance of this team, it felt seamless. Fadi was efficient in his case preparations, thorough in research, and always approached matters with a strategic mindset. His dedication to achieving the best possible outcome was evident in every interaction. A top choice for anyone in need of civil litigation services.
Commercial Litigation Lawyers vs Civil Litigation Lawyers: What Are The Key Differences?
While both commercial and civil litigation lawyers handle disputes, the nature and scale often differ. A commercial litigation lawyer might handle large-scale business disputes, while a civil litigation lawyer might deal with personal disputes like property disagreements or defamation. At Gulbenkian Andonian Solicitors, we are equipped with experts from both commercial and civil litigation areas who can advise you with the utmost professionalism. 
We advise companies on compliance and regulation, and our clients include many foreign investors and a number of significant household brand names; we promise to achieve all the goals that our litigation department can offer.
Contacting a Civil Litigation Solicitor: When and Why?
It's essential to get in touch with a civil litigation solicitor at the onset of a potential dispute. Doing so can help clients resolve such problems amicably without resorting to court action, which can make things very expensive. By having a solicitor on your side early, you gain an advantage in negotiations and ensure your rights are protected from the beginning.
Our lawyers have been involved in many of the leading cases, and many have so far recognised Gulbenkian Andonian Solicitors as leading experts in their practice areas.
The firm's policy is to endeavour to avoid protracted litigation and reach agreements in the best possible terms for the client. Litigation can be expensive and often not an option for many businesses.
We advise both claimants and defendants, including debt disputes, breach of contract, partnership disputes, and building and boundary disputes, with a view to negotiating out-of-court settlements.  Also, we advise on defence to claims in court for a successful result. We work closely with our network of experienced barristers to ensure the best possible client outcomes.
Mediation is often a consideration in the course of these matters to try to avoid escalating costs for clients.
Get immediate assistance and guidance from our Civil Litigation Lawyers in London by calling 0207 269 9590 or click here to contact us.
How Does the Dispute Resolution Process Work?
A strong track record in litigation and dispute resolution characterises the leading solicitors in London. They specialise in civil law, utilising both court proceedings and alternative dispute resolution (ADR) methods like mediation and arbitration. The objective? To resolve the dispute in the most efficient manner, keeping clients' interests at the forefront.
The Role of Mediation and Alternative Dispute Resolution (ADR)
Mediation, a form of alternative dispute resolution, is becoming increasingly popular as parties seek to resolve disputes without the costs and time associated with court battles. Our team of civil litigation solicitors play a pivotal role in guiding clients through ADR processes, making it possible to resolve disagreements amicably and cost-effectively.
Key Benefits of Working With Us
Our civil litigation solicitors can guide you through the daunting legal landscape, offering expert advice and action plans. Mediation and ADR are always the best way to handle civil litigation disputes and are cost-effective alternatives to traditional court battles. 
If you choose to work with us, we will make this a priority and will ensure you are well-informed from your initial consultation in a way that sets the stage for a successful legal journey.
Enquiry Essentials: Preparing for Your Initial Consultation
Having your case handled by an experienced civil litigation solicitor early can lead to a dispute resolution without court proceedings.
When reaching out to our civil litigation solicitors practice, please ensure you have all relevant documents, a clear understanding of your objectives, and any pertinent questions. This preparation will help our legal team grasp the intricacies of your case and advise on the next steps effectively.
Get in Touch: Starting The Civil Litigation Process in London with Gulbenkian Andonian Solicitors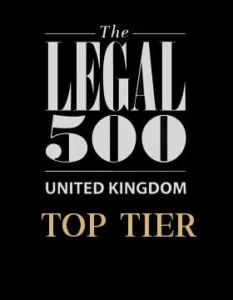 Ready to embark on your legal journey? Our firm is ranked Top Tier by the Legal 500.
Call 0207 269 9590 or contact us to arrange an initial consultation with our trusted litigation solicitors in London. Gain clarity on your case and start the process of taking action. We will be able to advise you on the best course of action to take, whether you're a claimant or a defendant.
FAQs about Civil Litigation
Our Civil Litigation Solicitors in London are here to assist you.