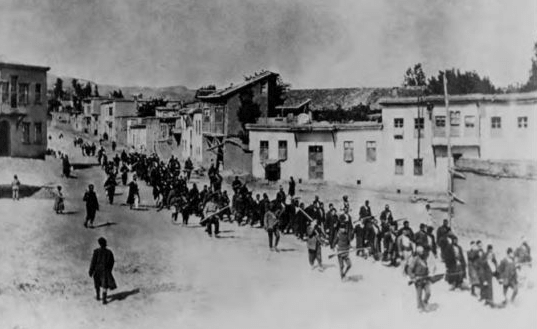 Was there an Armenian Genocide?
As a top tier legal 500 leading human rights law firm in the UK, our work towards the recognition by the UK government of the Armenian Genocide must once again be highlighted due to the tensions taking place right now in the Caucasus region.
The current war between Armenia with its war-torn enclave of Nagorno-Karabakh, against Azerbaijan and its allies Turkey together with terrorists flown in by Turkey from Syria to join forces with the Azeris in their relentless bombardment of the small and fragile Armenian enclave has been a melting pot for human rights abuses that are once again taking place in the region against ethnic Armenians.
The Armenian genocide took place during World War One, and since its occurrence, governments of the United Kingdom have not accepted that the deportations, killings and brutalisations of Armenians in Eastern Turkey from 1915 to 1916 amounted to a genocide. In 2008, the Armenian centre (UK) referred this matter for an expert opinion to Geoffrey Robertson QC. He had previously served as the President of the UN War Crimes Court in Sierra Leone and is recognised as a global thinker and authority on human rights and international law.
Geoffrey Robertson was instructed by our Co-Founder and Head of Professional Development, Dr Bernard Andonian to investigate and assess the historical position of the UK from 1915 to 16, and to come to an independent conclusion on the legal and factual issues surrounding it to why the UK did not regard the events that took place to amount to genocide at the time and also why no UK government has used this term to describe those events up until today.
Following the instruction by Dr Andonian, Mr Robertson made an application under the freedom of information act to collect policy documents and confidential communications at the time that informed the UK government by the FCO (Foreign and Commonwealth Office) of what events were taking place in Eastern Turkey.
The opinion that was formed by Geoffrey Robertson QC found that the position of the UK government was influenced heavily by how the situation was presented to it by its Foreign Office. No further investigations by ministers or FCO Civil servants were carried forth into the reality on the situation on the ground in Eastern Turkey. 
The Foreign Office at the time favoured a position that did not take into account the "ethical dimension" of the brutal events that took place on the Armenian community in Eastern Turkey, and instead, upheld commercial and diplomatic ties with the Turkish administration of the past which is a policy that is still in place when looking at the current relationship between the UK and Turkey today.
---
You can read the full version of the opinion by Geoffrey Robertson QC by clicking the link below.
Ask our Expert Legal Team
At Gulbenkian Andonian, we pride ourselves on "Excellence, Experience and Efficiency". With over 35 years of experience on your side, our team of London based lawyers and solicitors have a wealth of experience advising individuals, families and businesses of all sizes to find clarity on UK law.
Whether it is about a complex or straightforward UK immigration issue, buying or selling a property, divorce, employment, corporate matters, making a will, notary services or discussing any legal issue of your choice – Gulbenkian Andonian is here to help!
Call us on +44 (0) 207 269 9590 or fill out the form below, and we will reply to within 24 hours on UK working days.
Neither Gulbenkian Andonian Solicitors ltd, nor their employees, agents, consultants or assignees, accept any liability based on the contents of written articles which are meant for guidance only and not as legal advice. We advise all readers to take professional advice before acting. If you would like to consult with a professional lawyer or solicitor to discuss your case, please do not hesitate to contact us directly.