Applying for a UK visa demands a keen eye for detail. A simple oversight such as a typo can lead to many unpredictable issues. And, serious mistakes may result in your application being refused and impact your ability to apply in the future. This blog post aims to help you understand common errors that occur during the UK visa application process and how to manage them effectively.
After reading this, you'll be better equipped to understand the possible mistakes that can lead to potential consequences and learn strategies to fix them.
Common Mistakes on UK Visa Applications
When you're applying for a UK visa or for an extension under further leave to remain, careful attention to detail is vital. An error-free UK visa application sets you on the right path towards a favourable decision. However, errors often occur, and they usually can be divided into two categories: 
Innocent Mistakes
The phrase "innocent mistakes" generally indicates unintentional missteps stemming from oversights or misunderstandings. The Home Office's instructions for Entry Clearance Officers (ECOs) suggest that such mistakes should not result in a visa application denial.
Unintentional mistakes could be typo errors, an incorrect post code or address, or wrong dates and figures. For exmaple, an applicant can unintentionally misrepresent their income by declaring an annual income of £250,000 when it's actually £25,000.
If the job offer letter and wage slips state the right amount, it will likely be viewed as an unintentional mistake. Providing incorrect documents or paying the incorrect application fee also falls under this category.
Deliberate Deceptions
There are specific errors that could lead to the rejection of your UK visa application. These are usually mistakes that suggest an attempt to deceive the visa authorities. They could range from failing to declare material facts or a previous criminal conviction to ticking 'no' on the question "Have you previously been refused a visa?" when there's clear evidence of a past refusal.
Submitting false documents or providing evidence opposing the information stated in the application form also falls under this category. These mistakes could not only lead to the refusal of your current application but also result in a prohibition on future applications. 
It is crucial to note that some errors are sometimes treated as evidence of deception. This can include entering the wrong passport number, providing the wrong birth dates, using your nickname instead of your real birth name etc. 
Despite the potential severity of these mistakes, it's important to remember that they don't necessarily guarantee refusal. The Home Office ECOs will consider and assess whether an applicant knowingly submitted false information or documents. If it appears that the mistake was natural, the application may not be denied.
Nevertheless, the most reliable way to avoid these complications is to review your application carefully before submission. Ensure all the details supplied are accurate and the supporting documents align with the stated information. If you do discover a mistake after submission, take immediate steps to rectify it. 
The Risks of Making a Mistake on a UK Visa Application
An error in your UK immigration application, whether a minor typo or a significant discrepancy, can lead to a range of outcomes. The response from UK Visas and Immigration (UKVI) can range from minor delays to outright denial or even the cancellation of an already granted visa.
Rejection of Visa Application
Minor errors could slow down your application process. However, severe blunders impacting critical data or eligibility criteria might lead to the refusal of your visa application. Discrepancies affecting your eligibility, such as false income figures or inconsistencies in your employment history, could lead to your visa application being refused.
Approval of Visa Based on False Information
Sometimes, errors in a visa application may not be identified immediately, leading to the granting of a visa based on inaccurate data. If you discover such an error after obtaining visa approval and entry clearance, it's crucial to report it to the visa application centre as soon as possible. If they discover the error on their own and it's substantial enough to influence the visa decision, they might revoke the visa.
Risk of Visa Revocation if Errors Are Significant
If you are extending an existing visa, it may be cancelled if a mistake is noticed by officials during the visa application process that could have impacted the decision. In more serious cases, this could lead to a ban on re-entry, particularly if it is believed that the error was made intentionally. You might even be asked to leave the UK if you are already in the country. It is essential to ensure that all visa application documents are completed accurately and truthfully to avoid any avoidable issues.
Learn more about the UK governments rules for illegal immigrants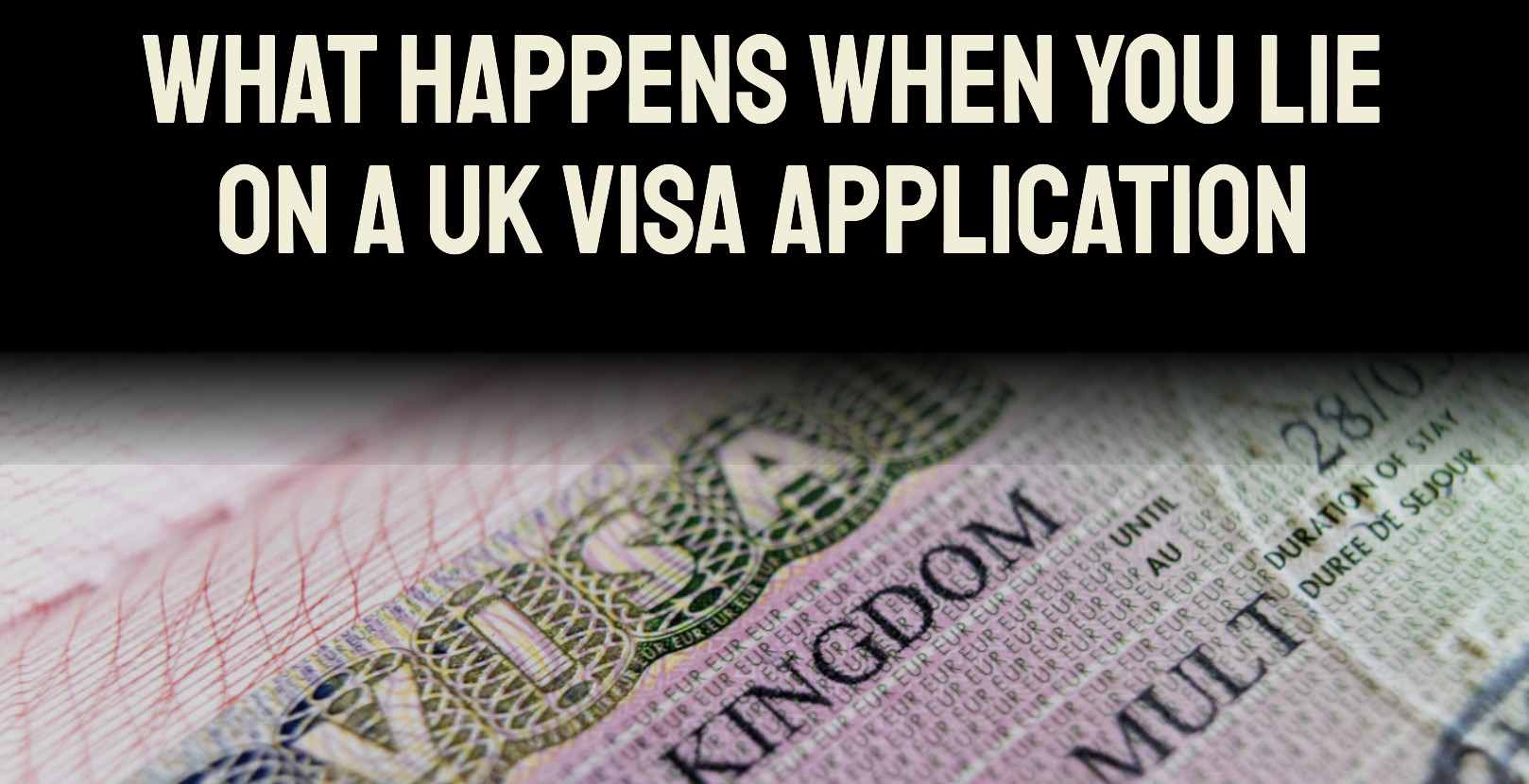 What Happens When You Lie on a UK Visa Application
Submitting false information, hiding key details, or presenting forged manuscripts on a visa application can have serious consequences when dealing with UK immigration authorities. Such actions may result in not only immediate visa refusal or revocation but also a future ban on entry, making it much more challenging to obtain a UK visa. 
It is vital to be honest and transparent on visa applications. Deceptive errors can take various forms. Some common examples include:
1. Failing to Disclose a Criminal Conviction
If there are any criminal records, the applicant must reveal them in the visa application. Failure to do so could be taken as an intentional attempt to mislead UK immigration authorities. It is essential to be genuine when applying for a visa to avoid any potential legal consequences.
2. Providing False Information about Previous Visa Denials
If you've previously been refused a visa, you must disclose this in your application. Lying about past visa denials can lead to your current application being denied and potential entry bans.
3. Inconsistencies Between Application Form and Submitted Documents
Differences between the information you provide in your application form and the details in your supporting records can be seen as an attempt to mislead. It's, therefore, crucial that all information you provide is consistent and accurate.
UK Visa Application Mistake: How to Fix it
If you spot an error in your UK visa application after submission, it's natural to worry. But mistakes happen, and there are ways to fix them. The approach to fixing the mistake depends on its nature. For minor errors like spelling mistakes or wrong address details, you can usually fix them directly with UKVI.
On the other hand, significant inconsistencies such as discrepancies in your income or criminal record may require additional documentation and possibly expert legal advice.
However, here's what you should do promptly:
Consult with an Immigration Lawyer

: Professional advice can be a game-changer in these situations. An

expert immigration solicitor

can provide you with guidance tailored to your situation and help you correct your error.



Write a Cover Letter

: Draft a clear and concise letter to the Home Office explaining the error. Be sure to enclose your application reference number at the top. In the letter, provide a straightforward explanation of the blunder and accurate information.



Submit Supporting Documents

: If you have any additional documents that can back up your claim of a genuine error, submit them along with your cover letter. For instance, if you entered the wrong financial details, you could include the correct bank statements.



It's critical to stay calm and organised in these circumstances. With the right advice and quick action, you can manage the situation and get your visa application back on track.
Contacting UK Visas and Immigration (UKVI) to Amend a Mistake
UKVI can be contacted from both inside and outside the UK. If you're outside the UK, you can send them an online inquiry or make a phone call if the situation demands immediate attention. Please note that every online inquiry incurs a fee of £2.74 (a fee that is subject to change at any point in time).
To go through the online messaging service, you'll require a debit or credit card. Payment details must be provided before sending your message, but the charge will only apply once the message has been officially sent.
Upon contacting UKVI, you'll be asked to select your current location. Next, the online tool will inquire about the nature of your query or what you require assistance with. You should select the option 'something else'. You'll then be asked to select your preferred language for correspondence, either through a phone conversation or an email response.
If you're inside the UK, you can phone UKVI during their phone service hours and choose the correct option for visa application inquiries.
Request UKVI to Withdraw Your Visa Application
If you've made a significant UK visa application mistake, it might be best to cancel your application and request a refund, especially if the mistake is substantial and could greatly influence your eligibility. The option to withdraw your application is generally available until your biometric appointment. However, eligibility for a refund of the payment made depends on the stage of your application.
This is a big step, so discuss it with your immigration solicitor first. They can assist you through the withdrawal process and help you reapply correctly.
Terms for Withdraw

: The terms for withdrawing an application can vary. For applications that have not yet recorded biometrics, cancellation can be initiated online. For online applications submitted through the UKVI account, you may be able to retract the application via the account itself.



Procedures to Withdraw

: Depending on where you stand in the application process, different methods are available to withdraw your visa application. For applications involving biometrics, the process can be initiated online. For others, you may be able to retract your application through your UKVI account.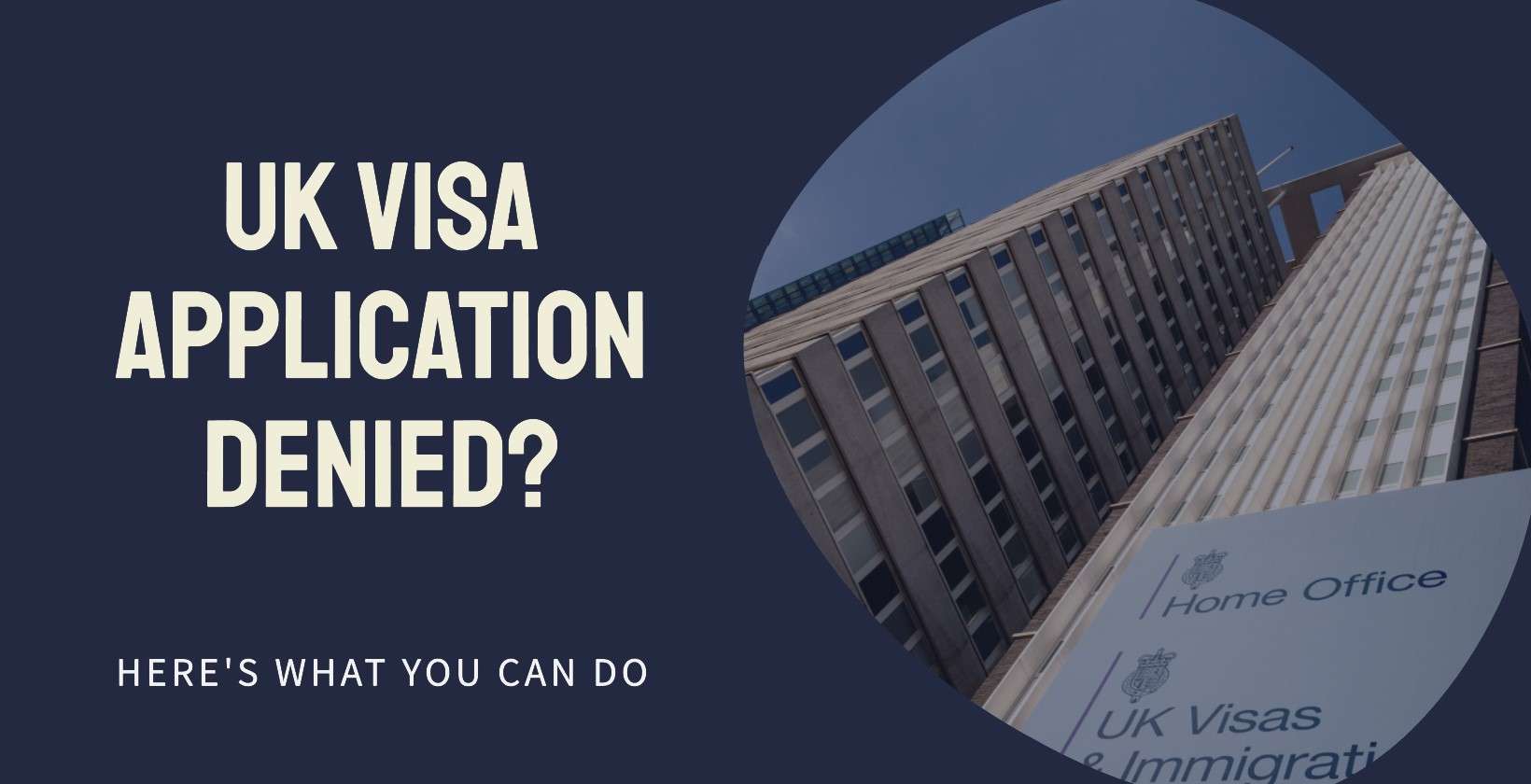 What to Do If Your UK Visa Application is Denied?
In case your UK visa application is rejected due to a mistake, there are options to challenge the decision, especially if the refusal imposes a re-entry ban. At this point, engaging an immigration solicitor could prove highly advantageous. They have the proficiency and expertise to handle your UK visa rejection efficiently.
Please note that contingent on your specific situation, a solicitor might suggest various other potential options, including:
The Administrative Review Process

: The primary course of action to challenge a visa refusal that is a result of an error made by the UK Home Office itself is filing an

administrative review

. This enables you to explain the reasons behind the error and introduce the correct data along with relevant supporting evidence. A strong argument could potentially lead to the reversal of the initial decision.

Filing an Appeal

: If there is a legal ground to challenge the refusal decision outlined in your refusal letter, an immigration appeal could be an option for you. Note that it may take more than 6 months to get a reply after making the appeal. So, proceed with caution and ensure that you have enough time for that.

Opting for a Judicial Review

: If you've tried all other options, you might potentially go for a

judicial review

. This is a process which reviews the legality of a judgment or an action carried out by a UK court.

Submitting a New Application

: If the error was considerable, it could be more beneficial to submit a fresh application. In certain cases, it could be more practical to consider applying for a different kind of visa that better aligns with your circumstances.
Even though dealing with a rejected visa application can be tough and discouraging, it's crucial to remember that it doesn't represent the end of your journey. With proper direction and a proper strategy, you can manoeuvre through this situation and boost your chances of successfully acquiring your UK visa.
Always remember to act quickly, offer accurate and truthful information, and seek professional advice when required.
Conclusion
Mistakes are an inherent part of our lives, but when they find their way into your UK visa application, it becomes crucial to rectify them rapidly and with integrity. Whether the error is a usual oversight or a significant inconsistency, be sure to correct them as soon as possible to avoid any potential negative impact.
Keep in mind the objective of your UK visa application is to represent an authentic and accurate picture of your situation. By promptly handling errors and addressing them appropriately, you can enhance the likelihood of obtaining your UK visa, paving the way for the next thrilling phase in your journey.
Need Assistance? We are Here to Help!
If you're unsure about your next move or need guidance, don't hesitate to seek expert advice. Professional immigration law firms such as Gulbenkian Andonian Solicitors can provide invaluable assistance to ensure an efficient visa application process and enhance your chance of a successful result.
With a rich background in UK immigration law, Gulbenkian Andonian Solicitors can help you navigate any complexities of the UK visa application process. Whether it is advice on how to fix an error, assistance with withdrawing an application or dealing with the consequences of a mistake, our team of experts is always ready to provide the assistance you need.
Fill out the form below or call us for immediate assistance.
Ask our Expert Legal Team
At Gulbenkian Andonian, we pride ourselves on "Excellence, Experience and Efficiency". With over 35 years of experience on your side, our team of London based lawyers and solicitors have a wealth of experience advising individuals, families and businesses of all sizes to find clarity on UK law.
Call us on +44 (0) 207 269 9590 or fill out the form below. We usually reply within a few hours.
Neither Gulbenkian Andonian Solicitors ltd, nor their employees, agents, consultants or assignees, accept any liability based on the contents of written articles which are meant for guidance only and not as legal advice. We advise all readers to take professional advice before acting. If you would like to consult with a professional lawyer or solicitor to discuss your case, please do not hesitate to contact us directly. This site uses reCAPTCHA and is protected by the Google privacy policy and terms of service.
Dr Bernard Andonian – the Co-Founder of Gulbenkian Andonian Solicitors, is an experienced Immigration Solicitor, former Judge, and recipient of a PhD in Law from the University of West London. He has over four decades of experience practising UK Immigration, Human Rights and Civil Litigation Law. He has served on the Law Society Immigration Law Panel, achieved numerous groundbreaking decisions in higher courts and is featured in the Legal 500's Hall of Fame.