Spouse Visa Financial Requirement and Exemptions in 2023
Relocating to a new country to join your spouse is a journey filled with hope, excitement, and, understandably, a handful of challenges. One such challenge is navigating the maze of the visa application process, particularly when applying for a UK spouse visa. 
Understanding the financial requirements for this visa is vital for it to be ultimately successful. This article aims to provide a comprehensive, detailed guide about these requirements, intending to empower you and alleviate the complexity of the process.
As an applicant, you're not alone in this journey. You have our professional team of immigration experts by your side, bringing timely knowledge, experience, and guidance to your aid. In this in-depth guide, you can confidently prepare for your spouse's visa application, meeting every financial requirement set by the Home Office.
Understanding the Financial Requirement for a Spouse Visa in 2023
The spouse visa application has a financial requirement based on the minimum income needed to support your family without depending on public funds. It's essential to understand the prerequisite to make the visa process successful. 
The Minimum Income Requirement
As per the guidelines from the UK Home Office, the minimum income prerequisite for a Spouse visa is a gross annual income of £18,600. This figure serves as a benchmark for a standard family visa application where the income is solely earned by your sponsoring partner. 
If you, the visa applicant, are already employed in the UK, your earnings can be combined with your partner's to fulfill this financial requirement. However, bear in mind that earnings from a job held overseas that will be forfeited if your visa application is successful are not included in this calculation.
It's crucial to understand that the fundamental income prerequisite isn't a fixed figure; it fluctuates depending on the number of non-British citizen dependent children applying with you. The financial need rises by £3,800 for the first child and by £2,400 for each additional kid.
Fulfilling the Financial Requirement via Income
Now, the question arises: how does one accomplish the financial requirement through income? The guidelines are pretty explicit. To count your income towards the financial requirement, your job must be UK-based. This income can be earned from salaried employment, non-salaried employment, or even a mix of both. 
The evidence of your income can be displayed through your employer's pay slips, bank statements, and a formal letter from your company verifying your employment status and income. These records must be no more than six months old from the date of application.
The demonstrated annual income should reflect a sum equivalent to or surpassing the stated financial requirement. If you operate a limited company, company tax returns can act as supplementary documents.
To sum up, irrespective of whether you're dependent solely on your spouse's income or combine both incomes, every penny is crucial. Each pound earned helps in achieving the financial requirement and draws you one step closer to achieving your UK spouse visa.
Using Cash Savings for the Spouse Visa Financial Requirement
While income plays a crucial role in meeting the financial requirement for your spouse visa application, cash savings can also provide substantial support. Understanding how to incorporate your savings into your application can significantly ease your financial planning for the visa process.
Cash savings don't serve as an exception to the financial requirement. Still, they can reduce your income requirement if you don't earn enough or act as a stand-alone source to meet the financial provision. The flexibility of cash savings can serve as a safety net, ensuring that you can meet your financial requirement one way or another.
Using Cash Savings Exclusively
If you're considering relying solely on your savings to meet your financial requirement, the Home Office rules are straightforward but inflexible. You or your partner must hold at least £62,500 in cash savings. 
This sum isn't incidental – it's carefully calculated to cover the minimum income requirement for five years (the period before indefinite leave to remain applies), ensuring that you have enough funds to support yourself without becoming a burden on public finances.
Combining Income and Savings
If you and your partner earn less than the £18,600 annual income threshold, you can use your savings to bridge the gap. This approach can give you the flexibility to combine income and savings to meet the financial requirement. For more details on how to implement this, do not hesitate to contact us for expert advice. 
Rules for Using Savings
Regardless of whether you're using savings alone or combining them with income, specific rules govern using cash savings for visa applications. Key among these rules is that you or your partner should have held the money for at least six months prior to your visa application. The savings must be under your control, accessible, and not tied up in investments, property, or notice accounts.
To prove the existence of these savings, you need to provide bank statements showing the amount of money in the account. Rest assured, the funds can remain in the account and do not need to be spent or withdrawn to meet the financial requirement.
Navigating the financial requirement for a spouse visa application is no small task. But with the proper acquaintance and preparation, it becomes less daunting. As we've seen, income and savings can both play crucial roles in meeting financial requirements, providing flexibility based on your individual circumstances.
Document Guidelines for Spouse Visa Financial Requirements in 2023
Financial documentation must be thorough and correct when applying for a UK spouse visa. These records confirm your financial condition and demonstrate that you meet the necessary funds. Here, we'll explore the types of documents you may need and the guidelines around them.
Types of Financial Documents and Guidelines
The UK Home Office provides a comprehensive guide, Appendix FM-SE, that outlines the specific documents eligible as evidence. Here are some of the most important documents you might need:
Bank Statements

: These documents on official bank stationery show your financial history over the specified period. For using electronic bank statements, you must also provide a letter from the bank attesting to their validity.

Employer's Payslips

: Payslips should clearly show the employer's name. If not, they must include a letter from the employer on their headed paper confirming their authenticity.

Building Society Statements or Pass Books

: These must show the account number, the society's name and logo, and the relevant transaction and balance information.

Letters from Banks or Financial Institutions

: These letters, on official stationery, provide information about your transactions, held funds, and the period for which the account has been active.
Keep in mind that a certified translation must be provided with any papers that are not in Welsh or English.
Along with gathering all the necessary documents, it's equally crucial to ensure they adhere to the specific guidelines. They must be presented in complete form, with all the pages included, and be original or certified copies. The documents must also be up-to-date, typically not more than 28 days old at the time of application.
By ensuring that your documents meet the guidelines, you increase your chances of a successful application and potentially avoid delays or refusal.
Exemptions to the Spouse Visa Financial Requirements 2023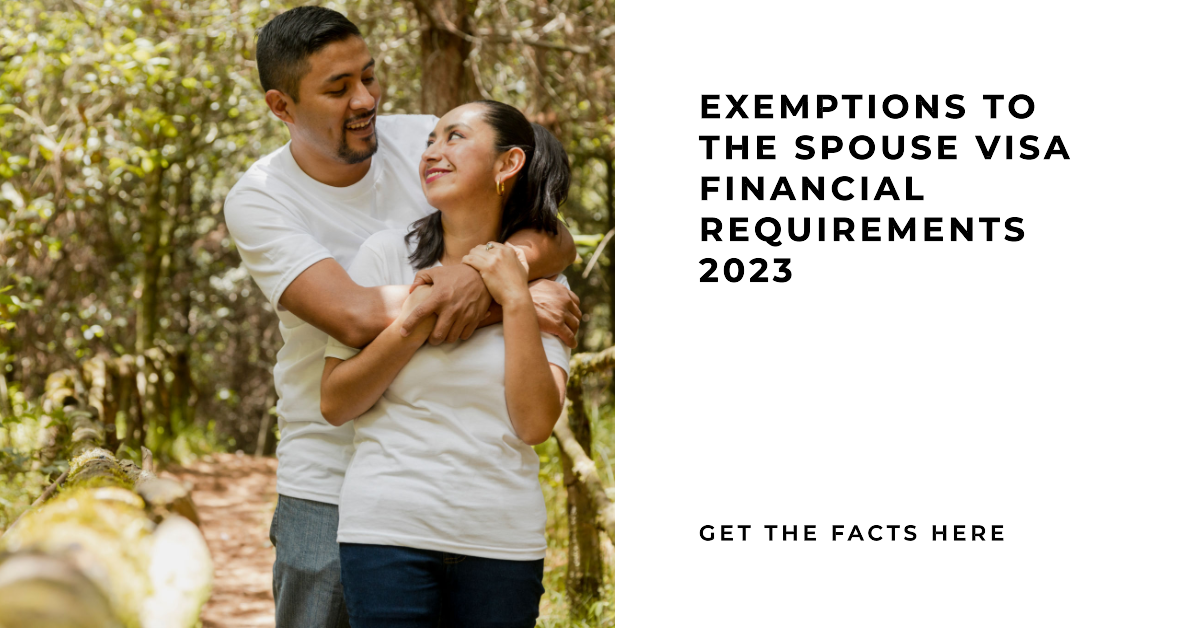 The UK spouse visa application process acknowledges that not all applicants can meet the standard financial requirements due to specific circumstances. In these instances, exemptions apply, meaning the applicant or their sponsor isn't expected to meet the minimum income threshold. Instead, they must offer proof of "adequate maintenance".
Exemptions are granted if the main applicant or their UK sponsor receives any of the following UK benefits:
Personal Independence Payment

Disability Living Allowance

Industrial Injuries Disablement Benefit

Severe Disablement Allowance

Attendance Allowance

Bereavement benefits

Police Injury Pension

War Disablement Pension, Mobility Supplement, Constant Attendance Allowance or under the War Pensions Scheme

Guaranteed Income Payment or Armed Forces Independence Payment under the Armed Forces Compensation Scheme
If you qualify for an exemption, you must give the Home Office the following information:
Authentication of current entitlement to benefits and the sum of money received from the Department for Work and Pensions, Veterans Agency, or Police Pension Authority. 

A minimum of one own bank statement from the twelve months before the application date demonstrating the deposit of the allotment.
Take the Next Step with Gulbenkian Andonian Solicitors
We know that navigating the complex waters of the UK Spouse Visa application can be daunting. With so many factors to consider, especially financial requirements, having a trusted and experienced advisor can make all the difference.
At Gulbenkian Andonian Immigration Solicitors, we will provide you with the expert support you require. Our team comprises seasoned immigration professionals well-versed in UK immigration legislation and policies. This expertise allows us to aid you in simplifying the application procedure, enhancing your chances of a favourable outcome.
Don't allow uncertainty to hinder your progress. Equipped with the backing of our team, you're in a solid position to address the financial stipulations and any other hurdles that may arise. Are you prepared to embark on your journey? Reach out to Gulbenkian Andonian Solicitors today.
Ask our Expert Legal Team
At Gulbenkian Andonian, we pride ourselves on "Excellence, Experience and Efficiency". With over 35 years of experience on your side, our team of London based lawyers and solicitors have a wealth of experience advising individuals, families and businesses of all sizes to find clarity on UK law.
Call us on +44 (0) 207 269 9590 or fill out the form below. We usually reply within a few hours.
Neither Gulbenkian Andonian Solicitors ltd, nor their employees, agents, consultants or assignees, accept any liability based on the contents of written articles which are meant for guidance only and not as legal advice. We advise all readers to take professional advice before acting. If you would like to consult with a professional lawyer or solicitor to discuss your case, please do not hesitate to contact us directly. This site uses reCAPTCHA and is protected by the Google privacy policy and terms of service.
Dr Bernard Andonian – the Co-Founder of Gulbenkian Andonian Solicitors, is an experienced Immigration Solicitor, former Judge, and recipient of a PhD in Law from the University of West London. He has over four decades of experience practising UK Immigration, Human Rights and Civil Litigation Law. He has served on the Law Society Immigration Law Panel, achieved numerous groundbreaking decisions in higher courts and is featured in the Legal 500's Hall of Fame.