Leading Extradition Lawyers in London
Gulbenkian Andonian Solicitors offer unparalleled expertise and dedicated representation for individuals facing extradition proceedings in London and the UK. 
Speak with a member of our team today, or fill out the form and we will get back to you in 24 hours.
Why Trust Our Extradition Lawyers in London?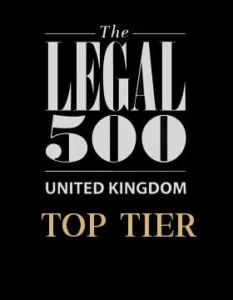 Extradition can be pursued if an individual faces accusations or has been found guilty of an offence or crime in a foreign country.
Gulbenkian Andonian is renowned for its vast expertise in countering extradition requests. Recognised as Top Tier by the Legal 500 for our work on Human Rights Law, our expertise is unmatched in this area of law in the city of London and the UK.
Additionally, should the need arise for an appeal, our professional extradition lawyers have decades of experience representing individuals before esteemed institutions such as the High Court, District Judge, and even in Supreme Court to ensure their rights are protected.
Extradition Law Explained
Extradition is a legal process through which one country formally requests the surrender of an individual who is wanted for criminal prosecution or to serve a sentence in that country. The Extradition Act 2003 enforces the process into types of extradition, determined by whether the extraditing nation is categorised as a Category 1 territory or Category 2 territory.
Category 1 – EEA countries where the European Arrest Warrant provides an expedited process through a streamlined process.
Category 2 – This is a more complicated process where the requesting state seeking extradition might be required to demonstrate substantial evidence to support the request for extradition.
Both categories need to align with the European Convention. At Gulbenkian Andonian, we focus on leveraging human rights challenges to extradition requests.
The extradition order can be quite sudden. It's vital to secure specialist extradition counsel as soon as possible, especially when it becomes evident that there's an active criminal law probe.
There's potential to engage the lawyers in the requesting country, which might prevent any formal extradition arrangement with the UK.
Get immediate assistance and guidance on an Extradition  Matter by calling
0207 269 9590 or click here to contact us.
Who Have We Helped With Our Extradition Expertise?
Our clientele includes British citizens facing overseas extradition requests and international elite individuals who seek our guidance against politically driven extradition requests and more. Furthermore, international governments often approach us for insights on extradition practices.
Our legal expertise and influence spans multiple countries: from European nations, Asia, North America and parts of Africa.
Since the UK departed from the European Arrest Warrant (EAW) system, we have been tasked and successful on numerous occasions in guiding individuals through requests in this post-Brexit phase. Our firm also deals with the increasing demand of extradition requests from non-EU nations, especially Russia, the CIS, India and the US, with its focus on financial misconduct and fraud issues. 
It's worth noting that even without a formal extradition arrangement with the UK, special negotiations can be arranged. Our network of international solicitors enables us to offer comprehensive advice regardless of the source of the extradition request or the location of associated parties and properties.
The nature of relevant laws emphasises the importance of seeking expert extradition advice as soon as one suspects a potential extradition threat.
Deep Expertise: Our team boasts years of specialised experience in handling complex extradition cases, ensuring you're in capable hands.
London-Centric Approach: Situated in London, within a close radius of Westminster Magistrates' Court, we're well-versed with the extradition laws of England and Wales and have strong relationships with local courts and authorities.
Client-Centric Service: Every client is unique, and we provide personalised legal strategies tailored to your specific situation.
Being faced with extradition is a horrible mental ordeal, and I felt like the world was against me. I sought assistance from Gulbenkian Andonian Solicitors on a friend's recommendation for their work on human rights law, and it was the best decision I could have made. Their in-depth knowledge of extradition laws and tireless dedication to my case was beyond expected. Thanks to Fadi, the extradition request was denied. His expertise in this niche legal area is unparalleled.
When I was served with an extradition request, the complexity and weight of the situation were overwhelming. The team at Gulbenkian Andonian Solicitors immediately gave me a sense of hope. Fadi's experience in extradition cases was evident from our first meeting. Through strategic planning, unwavering support, and aggressive advocacy, he successfully contested the request. I am forever in debt to his support.
An extradition order threatened to ruin my life; I needed help, so I contacted Gulbenkian Andonian Solicitors. From our initial consultation, they showed me that they have a profound understanding of international extradition proceedings. Their approach led to a favourable outcome for my case. Their prowess in handling extradition matters is truly noteworthy.
Tackling extradition differs significantly from domestic prosecution cases.
From managing international asset safety to potential political harassment risks, our forte lies in strategic counsel to clients. 
When necessary, our extradition solicitors collaborate with our firm's other departments, encompassing immigration, family law, and dispute resolution.
Understanding the reputational implications, we also team up with our adept reputation management team, especially for high-visibility cases, to shield clients from damaging publicity.
Our affiliations with organisations like the European Criminal Bar Association, International Bar Association, and AIJA strengthen our network of international connections with global lawyers, enhancing our client outcomes.
If there have been an attempt to extradite you to another country, please contact our experienced extradition lawyers in London.
How Our Experienced Extradition Solicitors London Can Help You
Often, we advise clients before the initiation of extradition procedures, such as INTERPOL Red Notices, which frequently serve as early warnings of impending extradition cases. Our extradition solicitors in London have the skills to either liaise with authorities to prevent extradition entirely or to advocate for a favourable outcome post-extradition. Timely preparation is pivotal to have defences ready against potential arrests or official requests.
The initial phase in an extradition scenario entails a bail proposition. Ensuring a robust bail package for court presentation is crucial. When an extradition appeal emerges, we provide guidance on statutory, technical, and human rights-based defences. Various defences against extradition range from human rights guarantees to scrutinising the extradition appeal's content. UK laws also present several bars to extradition, encompassing time lapsed, double jeopardy, and health concerns.
We pride ourselves on compiling compelling evidence against extradition and have built partnerships with international specialists and NGOs to bolster client defences.
Our Services Extend to:
Extradition Hearings: Comprehensive representation during extradition hearings, ensuring your rights and arguments are presented effectively.

Bail Applications: Expert assistance in securing bail during extradition proceedings.

Appeals: Should the need arise, we provide robust representation during extradition appeal processes.
Key Benefits of Choosing Us
Strategic Approach: We meticulously plan our defence strategies, ensuring the highest chance of success in preventing extradition.
Transparent Communication: We prioritise keeping our clients informed, ensuring you're consistently updated on the status and subsequent steps.
Proven Success: Our track record in successfully challenging extradition requests in London speaks for itself.
Contact Our Extradition Solicitors Today!
Are you facing an extradition request? Then, we are here to help and ensure you act swiftly against it. Don't navigate this challenging process alone. Contact our expert extradition legal team, led by Extradition expert Fadi Farhat. Call 0207 269 9590 or contact us for a call back in 24 hours.
Our Extradition Lawyers in London are here to assist you.